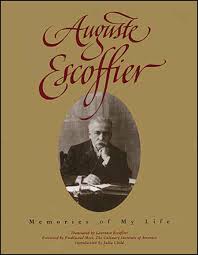 In general, he was a famous chef, culinary writer and restaurant owner. He is given primary credit for popularizing traditional French cooking methods, and for making it accessible and simplified for the masses to use. He has a reputation for championing an orderly, clean, and well-run kitchen – efforts that had tremendous public health benefits. He also wrote an influential cookbook still used as a reference work, and invented a few famous French dishes, especially desserts named after women like peach melba. He worked early in his career at The Savoy, met the future founder of the Ritz hotel chain, Cesar Ritz and built a lifelong partnership.
In the 1930s an all-men's culinary society was formed, using his name as their inspiration: Les Amis d'Escoffier.
Although he gets credit for formalizing French cooking, he based his work on that of an earlier chef. His primary contribution was making the other chef's work simpler and more accessible.
In 1878, Escoffier married Delphine Daffis. Escoffier apparently won her hand in a gamble with her father, publisher Paul Daffis, over a game of billiards.
In 1897, the Savoy Hotels board of directors began noticing their revenues were falling despite business increasing. They discreetly hired an auditing company who in turn hired a private investigation company who began secretively tailing Cesar Ritz and Escoffier. They made a report to the board which detailed substantial evidence of fraud.
Escoffier himself was chiefly guilty of taking bribes and kickbacks from suppliers (then a common practice, as it may still be in some big institutions). But there were huge sums involved – not much short of $3 million in today's money.
READ MORE in the pdf article (click on book photo)