Come EAT, SHOP & EXPLORE with us! Taste our unique line of award-winning, natural, family-recipe cooking sauces or join us on a full range of tasty, fun offerings for all ages, occasions and settings–no kitchen needed! Follow the links below for details, cooking videos, articles and more.
For a custom/private events or if you have a specific question, fill out this quick Inquiry Form and we'll get back to you shortly!
Food & Culture Tours, Buford Highway International Corridor
Got a corporate team, club, sales meeting or special occasion? We'll help you design a fun, tasty food tour or cooking party On/off site. Creative, flexible options. Team-building, Employee and Customer Engagement, Diversity, Health/Wellness, Client Engagement. No kitchen required. Transport options. We travel!
Traveling-On-site Cooking Parties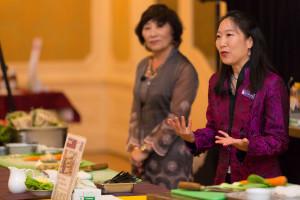 Our fun, interactive and informative hands-on cooking classes and tasting demos are never dull or
ordinary! We highlight cooking techniques, food history, culture, healthy eating, local food goodness and the best of East, West…and the Deep South! Learn authentic and fusion home chef secrets, grocery shopping tips, healthy and busy-cook shortcuts, and a taste of our irresistible sauces and condiments.
Popular topics:
Hands-On Chinese Dumplings & Pot Stickers
Healthy Eating: 1-Minute Stir Fry and Farm to Wok: Stir Fry 101
Arts, Culture & Food: Chinese Calligraphy & Dumplings (tasting)
Inquire about custom topics.
Health & Wellness Demos
Nothing attracts and delights audiences like a Chinese Southern Belle "Action Station" demonstration like 1-MINUTE Stir Fry! Adaptable for health living, diversity, team-building or social clubs.
Food, Culture & Diversity Story-telling, Presentations
Beyond "filling your belly," food brings people together for sharing, learning, and inspiration, especially across regions or culture, in America and around the world. Creative story-telling through food and culture. Adaptable for different settings, audiences and themes. Perfect for Conferences, Panels, Multi-Media. Opening minds, one mouth at a time!
Asian/International Supermarket Tours & Dim Sum 101, Cooking Demos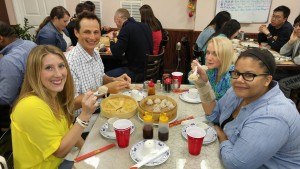 What's the difference between sweet, sushi and basmati rice? What is chayote? Which Asian greens are best for stir frying? How do curries differ in flavor and use? Eat, shop and explore an Asian international grocery with us–and touch, smell, and eat the world–in your own backyard! Combine with Dim Sum 101 or a Cooking Party after shopping for ingredients.
Home & Office Parties – Great for Birthdays, Clubs, Team-Building
Our home and office parties are customized to audience, goals, and facility. From on-site corporate Healthy Eating Lunch 'n' Learns and birthday or book club demos to team-building outings, we've taught over 300+ classes. No kitchen required. Winner *Best Cooking Class Instructors 2015, 2017, 2019*
Special Events/Festivals
Fan favorites include weekly farmers markets, holiday fairs, and our popular Annual Chinese Lunar New Year Cultural Dinner. Follow us on social media and sign up for the Ni Hao, Y'All Newsletter to get early alerts, member discounts, and links to recipes, and cooking/shopping videos.
Link To Us!