Ni Hao, Y'All!
Join Natalie and Margaret for a fun, relaxing and oh, so tasty, evening out to celebrate the Year of the Canine at their 5th Annual Chinese Lunar New Year Cultural Tasting Dinner! 
New Year Traditions, New Friends, Good Food! Recover and rejuvenate from holiday shopping and bling frenzy.  Take a break from the cold weather with warm smiles and a warm tummy.
Come one or come all, family-style seating means no foodie left behind 🙂  Great for special occasion, date night out or clubs and teams. See Group/Table discounts.
Tickets are going fast and we expect to sell out again. Registration will close when full. Don't miss it. See y'all at our favorite seasonal event of the year!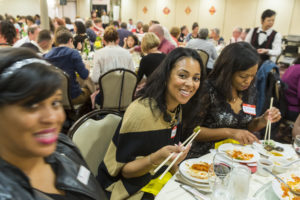 8 scrumptious courses (mix of old favorite and new year ones!) matched to the traditions of the Chinese New Year, food history, cultural trivia, prizes, Margaret's custom calligraphy art, and the popular (and super-competitive) Chopsticks Race! Buy a Table of 10, get 2 seats FREE ($100 value). Table of 6, get 1 seat free ($50 value).
Saturday, January 27, 2018 at 6:30pm
Buford Highway (Doraville, GA address in ticket purchase) No tickets sold at door.