Ni Hao, Y'All! SAVE the DATE and get tickets early (great gift, check off the list!) to join Natalie and Margaret to celebrate the Year of the Dog at their 5th Annual Chinese Lunar New Year Cultural Dinner!  Tickets/Details
MAKES GREAT HOLIDAY GIFT! Check off the list, no shipping, mall, traffic hassle) to our premiere seasonal event of the year!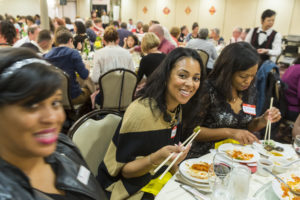 8 scrumptious courses (mix of old favorite and new year ones!) matched to the traditions of the Chinese New Year, food history, cultural trivia, prizes, Margaret's custom calligraphy art, and the popular (and super-competitive) Chopsticks Race! Tasty couple or friends night out. Come solo and make new friends, family-styled seating. Buy a Table of 10, get 2 free seats for your organization or company team!
Saturday, January 27, 2018 at 6:30pm
Buford Highway (Doraville, GA address in ticket purchase)
BUY TICKETS NOW  Couples and group table DEALS!
Fun, foodie couple or friends night out! Perfect holiday treat for yourself or with friends! Family-style seating.  Buy early, always a sellout!