​

Love Asian food? No time to cook? Want to eat healthier?

Get our award-winning, natural, scratch-cooking sauce blends now on Amazon! Sweet Chili Peach (My Sweet Hottie MILD), Soy Ginger Vidalia (You Saucy Thing) and Asian BBQ Teriyaki Pineapple (Wild Wild East) in great gift packs: large 12 oz Asian Chef Trio (plastic bottles) OR Asian Chef Glass 8 oz trio set
Friends and Fans:
Help us stand out in the Amazon "jungle" with sales and reviews as a new seller on Amazon. Limited Time Spring Sale 15% off on Amazon (code: 15SaucySouth) or order direct from our CSB webstore and get FREE SHIPPING (freeshipme18) limited time!
*NEW PRODUCT*
"My First Cleaver" MADE IN USA on Amazon with FREE SHIPPING, free sauce sampler, and Amazon Prime benefits. Perfect gift for the home-chef! Check out our website for more cooking video, helpful tips and photos.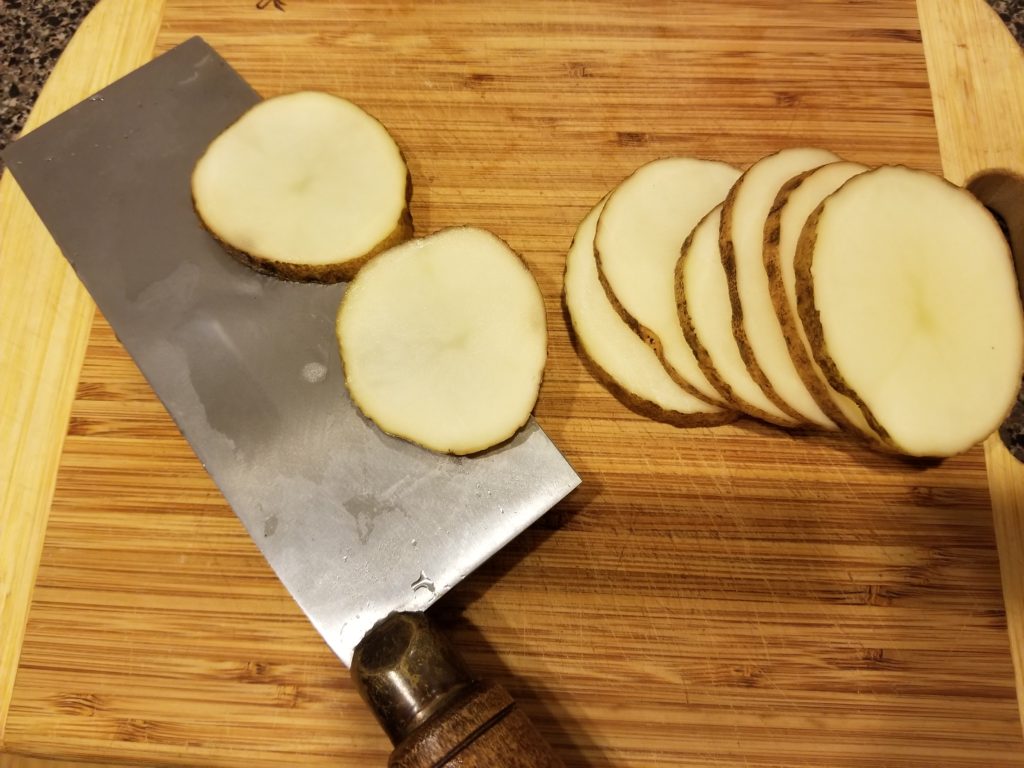 Foodie-friendly and Kitchen Tough!
Proprietary high-carbon, high-alloy stainless steel. Individually ground and honed edge.
Sharp, right out of the box. Easy to re-sharpen. Natural hardwood handle.
Limited Lifetime Warranty. Looks large in size, but it's lightweight, versatile, and slim.
A highly versatile knife for scooping and transferring chopped vegetables from the cutting board into a pan.
The sharp tip can peel soft skins, the flat part of the blade can smash garlic, and the spine can pound and tenderize meat.
SEE US IN ACTION – Listing details and Asian-styled Cleaver Video – using the cleaver in our cooking classes and at home!
My mom always boasted that she could make a 10-course meal with only a skillet, pair of chopsticks,and this, her favorite tool! She did everything – slice, dice, shred, chop, bang, smash, tenderize, even scoop! Mom whipped up fast, healthy "country" meals for a family of five, like Pepper Steak and Rice-a-Roni and Five-Spice Home Fries with our sauces as a base, marinade and instant stir-fry sauce. This knife has my mom's stamp of approval, so it might be the first cleaver you've ever owned, but likely the only one you'll need to buy (unless you get more for gifts!)
Traditionally, these blades were used for butchering whole animals–bones, gristle and all. They were big and heavy and shaped like an axe. Small enough for my hand but solid and precise enough for a variety of vegetables, from the farm stand or market, from russet potatoes and radicchio to daikon radish and ginger!
I own many cleavers and the 8-inch blade size is more widely available but this 7-inch model is big enough, not too heavy and all-purpose. Don't use it to hack up a cow or frozen chicken, but it does about everything else. Speak softly, eat good food…and carry a big knife!
LIMITED TIME ONLY: AMAZON LAUNCH sale! Discount code: 15SaucySouth