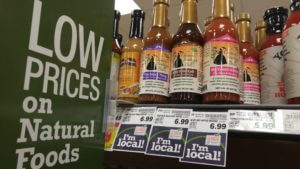 We're very excited to announce that our award-winning, natural and Georgia Grown cooking sauces are now on sale (up to 30% off) in many Kroger grocery stores in Georgia (all except the small/limited space ones) in the NATURAL/HEALTHY section (or a few stores, LOCAL products section)
NOT LOCAL? No problem, get our Asian Chef Trio specials here with easy, secure online ordering CSB Store
Move over Kikkoman and Annie Chun, here comes local Chinese Southern Belle!
Be a LOCAL HERO and tell all your friends! We must sell enough product in the first few months "trial" and send the message to their corporate office that LOCAL MATTERS (and you love CSB 🙂 to keep our coveted shelf space against the big commercial brands. If you get a bottle, post and tag me, and take a pic of your dish or what foods you enjoy with. No recipe needed, ready to eat…and eat…and eat! 🙂
MY SWEET HOTTIE peach, ginger and honey MILD – first authentic sweet chili sauce that's peachy keen with Asian zing! Try it –one toss and fall in love–with Asian slaw, fish tacos, lettuce wraps…
YOU SAUCY THING soy ginger Vidalia – grandma's everything sauce chocked full of fresh ingredients and Southern goodness like Georgia's own Vidalia sweet onion, garlic, sesame. It's our speed scratch-cooking shortcut and secret at home. You, too, can do the 1-Minute Stir Fry!
WILD WILD EAST Asian BBQ & Teriyaki Pineapple – A party crowd pleaser and kid-favorite without the goopy corn syrups or smoke additives. Amazing as Teriyaki chicken, wings/ribs, stir fry/noodles, lettuce wraps…
Check STORE LOCATOR to see which Kroger store is closest to you! If they didn't roll it out or you can't find, please tell me the location (and tell them to get it!) 🙂 Also Whole Foods Markets stores (metro Atlanta, Greenville SC, Chattanooga-Nashville, Asheville and Raleigh NC)
Local businesses include: Cooks Warehouse, ACE Hardware Decatur, Oakhurst Market!
Thank you for your help in spreading the word!
Natalie's TV cooking & tour videos