How to Make an Asian Tropical Fruit Salad (Video)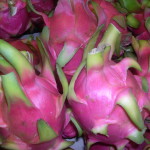 Look Good and Taste Good
I love sharing and learning about new fruit and vegetables, like this tropical fruit salad. Here's how you can jazz up a boring fruit salad with delicious and beautiful tropical fruits popular in Asia like dragon fruit, pomelo and jackfruit!
Like to cook at home? Try our award-winning family "Recipes-in-a-Bottle" featuring fresh Southern ingredients like peaches and Vidalia sweet onion. Available at Whole Foods Market (Atlanta), Kroger Georgia, local farmers markets or order ONLINE. Check out our Southern-inspired home chef recipes, cooking tips and upcoming events.
If you're local, look forward to seeing you at my next hands-on cooking class or international supermarket tour.
Not in Atlanta, no worries! Follow me on social media and YouTube channel to Eat, Shop and Explore 24/7. Opening minds, one mouth at a time! Potlucks for Peace!
Check out more Quick Tips, this one on Asian Noodles!