Video: Natalie Cooking up Authenticity in Food, Life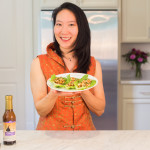 Natalie shares how her cooking style and recipes reflect family, a sense of place, and heritage as a Chinese American and Southerner!
Natalie Keng: Cookin' Up Authenticity in Food & Life (Video)
Thanks to the gang at PeachDish, the best meal kits ever! Check out menu items that feature our award-winning, natural cooking sauce blends – our family recipes! Use coupon code Natalie16 for $10 off your first order!