Peachy Keen: Instant Fresh Peach Ginger Honey Dressing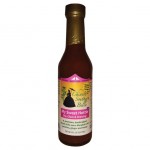 Ni Hao, Y'All! Fresh Peach Salad Dressing with my Sweet Hottie (mild), our natural, award-winning dipping sauce and dressing. In addition, this dish is chocked full 'o' fresh peaches, ginger, garlic, and honey and delicious on salads. In one step, create a scrumptious Kale Salad for non-kale eaters; Sweet & Sour cabbage slaw for fish taco, wraps or jazz up your burgers and slaw dogs with tangy, fresh global fusion flavors. Delicious in hot or cold dishes, and travels well.
Use this Fresh Peach Salad Dressing as a fat-free, low-sodium dressing, straight out of the bottle. We don't add excess or cheap fillers like water, starch, oils or high fructose corn syrups so thin it out if you like with vegetable or olive oil for a fresh, clean taste.
Naturally Soy-Free, Gluten-Free and vegetarian!