Video Cooking Tips : Choosing Sushi Rice!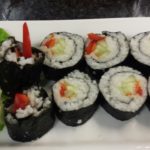 Here's a quick video for choosing sushi rice. Using the correct type of rice is an important part to making delicious, healthy rolls that don't fall apart!  Avoid sushi spillage and watch this video!
See also "Cooking Sushi Rice"  and "Preparing Sushi Rice" in this express how-to series. Follow The Chinese Southern Belle Channel for more tips and food and cultural adventures with Natalie Keng!
Check out more of Natalie's creative cooking videos:
SNUSHI Crunchy Snack Sushi Rolls with a Twist!