Making Sushi with a Twist? SNUSHI!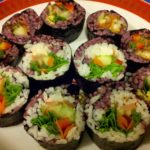 Do you SNUSHI? You've gotta try it!
My recipes and demos are easy, healthy and use creative. In addition, you can mix 'n' match ingredients so you don't have to sacrifice your waistline, time or budget being a slave to recipes or hard-to-find or pricey products. I prefer cooking at home so you'll see more kitchen tips than restaurant critiques. However, I will share favorite eating spots and dishes!
I'm a little Southern, a little Asian, a sprinkle global and a lot American, plus my nickname is "raccoon foodie." That means you'll get an interesting, diverse mix!
I grew up in Smyrna, Georgia where we had no Asian markets! My mom and I learned to adapt traditional Chinese favorites with an American Southern twist! Mom's the meat guru and I do the "green head" veggie-friendly healthy spins, like using brown rice, red rice and purple rice.
The sushi masters may be turning over in their graves, but my SNUSHI is the bomb! Come to my next Hands-On Sushi cooking class or throw a Sushi House Party with Chinese Southern Belle!
Watch Natalie's short cooking demo video on Sushi with a Twist- SNUSHI?
Other sushi videos:
Remember to Subscribe/Like and visit my website and blog www.chinesesouthernbelle.com for more weekly food and cultural adventures, including cooking, shopping and product tips ! Thanks for your support!