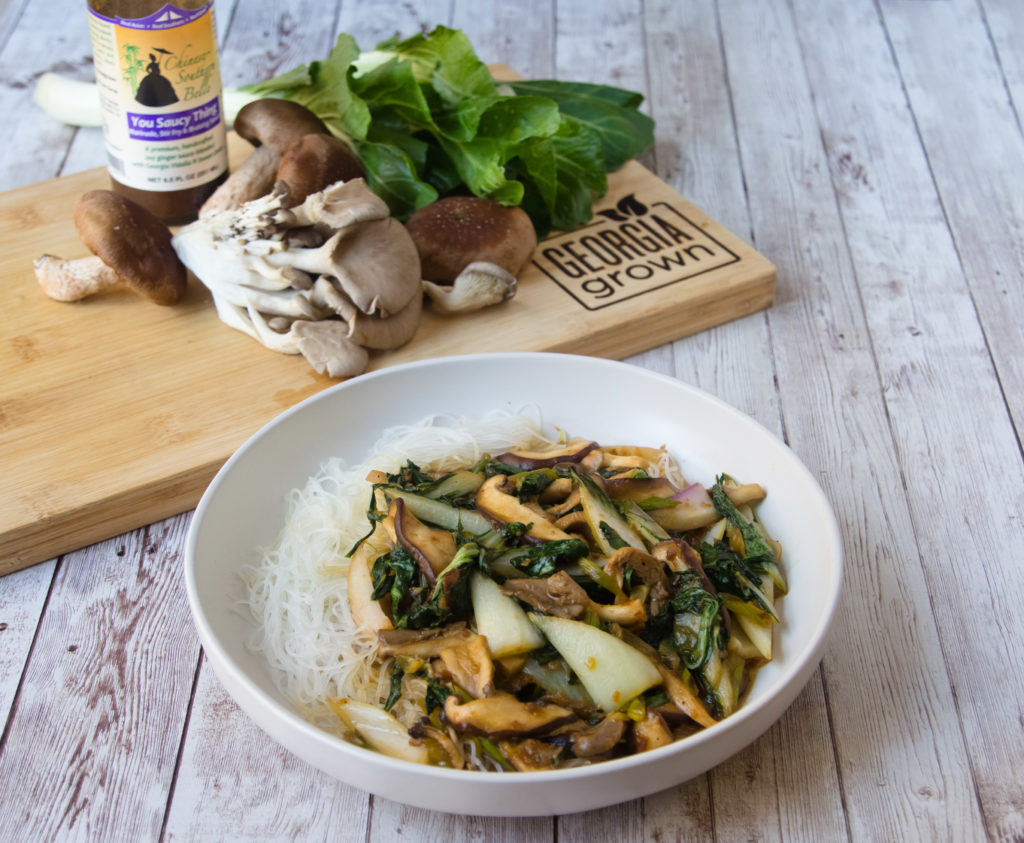 Quick, easy, and delicious is the definition of any recipe we create. The trick is to balance crunchy and savory with a sauce that melds flavors while showcasing each ingredient. In this recipe created for Georgia Grown, I am highlighting locally grown bok choy and Ellijay Mushrooms using You Saucy Thing, Soy Ginger Vidalia Sauce (won Flavor of Georgia – Best Cooking Sauce 2020) with a quick stir fry!
1-Minute Stir Fry: Bok Choy and Mushrooms in Soy Ginger Vidalia Sauce (low sodium, low fat)
2 cups sliced bok choy (2 inch pieces, diagonal)
1.5 cups sliced shitake or oyster mushrooms (from a local farm)
1/4 cup sliced green onions
1/3 cup Chinese Southern Belle's Soy Ginger Vidalia cooking sauce
Place skillet on medium-high heat. Add vegetables, onions, and sauce to hot pan. Stir fry 1 minute (or desired tenderness) and heat through. Add extra sauce if desired. Serve with rice or noodles. You can substitute broccoli or whatever vegetable is seasonal (or your favorite) for bok choy and use different mushrooms.
And if you want to try all three of her sauces, You Saucy Thing (Soy Ginger Vidalia), My Sweet Hottie (Sweet Chili Peach), and Wild Wild East (Asian BBQ Teriyaki Pineapple), check out her website to place your order and for recipe inspiration!
Ni Hao, Y'all, together we can!