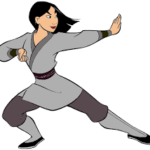 "Disney's upcoming 2018 live-action retelling of Mulan, the traditional Chinese story of a young girl who takes her father's place in war to save him, is being hit with criticism on social media after a speculative screenplay was leaked online.
The information, posted anonymously on the website
Angry Asian Man
, revealed that the new Disney movie would not focus on Mulan's own journey to protect her family. Instead, the proposed remake of the studio's hit animation movie would feature a white male European sailor who saved the young heroine and conquered her heart."
CNN article cont'd
Forget back to the future, are we forwarding to the past (again)? This is why diverse representation, inclusion and the minority experience still matter. Not a guarantee but at least, having one voice (of course, the more the better) gives a greater chance, that the perspective will be respectful and fair.
Petition that demands 'make Mulan right'