Mom's Chinese Spaghetti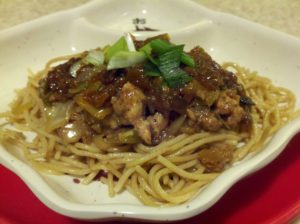 This is a family and party FAVORITE especially with kids! A great way to "sneak in" veggies. Equally good mild or spicy. Mom always makes this for my birthday since noodles represent longevity in Chinese culture! Good with any kind of noodles.We did a Chili Spaghetti version of this (adding beans) and served it up at a town Cook-off. It was a crowd favorite of all ages!

Noodles represent long life so traditionally we eat noodles at birthday celebrations–and don't cut the noodles! This is our adaptation of Shanghai Spicy Noodles. I have done a vegetarian version, too, with finely chopped cabbage, celery, zucchini. The key is finely chopping the vegetables into bits (easiest in food processor) so it's saucy and flavorful as part of the sauce rather than being a chunky stir fry.
You can use any noodles you have on hand– regular or whole wheat spaghetti, linguine–noodles of any shape, really. We like long, skinny noodles for long life slurping and twirling! For a special treat, enjoy with fresh Asian-style yellow lo mein noodles (in refrigerated or frozen section of Asian groceries and some large supermarkets. Boil as directed or like fresh pasta).

2 T veg (canola/safflower) oil
1 T minced garlic
1 T minced fresh ginger
1/2 c. finely chopped onion
3 T hoisin sauce
2 T soy sauce
1 T sugar
Finely chopped veggies 3 cups: cabbage, celery, yellow squash/zucchini
1 lb. ground pork (traditional), beef or blend
2 T oil
½ t black pepper
1 t salt
16 oz. Spaghetti noodles, cooked and drained
2 T sesame oil
1/2 c. slivered green onions
Slivered cucumbers, cilantro for garnish
In small bowl combine hoisin, soy sauce, sugar. In large skillet or medium pot, heat 2 T oil on medium until hot, add 3/4 of your green onions (leave some for garnish), pepper, salt, saute 30 seconds. Add ground beef, saute until barely pink. Stir soy sauce blend into meat mixture. Saute until meat is browned and done. Simmer low 10 minutes. While meat is simmering, in separate skillet, heat 1 T veg oil, saute garlic, ginger, and vegetables 2 minutes. Combine with meat sauce in larger pan. Simmer together low 10 minutes until meat and vegetables become saucy and sauce has thickened a bit. Serve sauce mixture over warmed noodles. Add a little extra 1/4 t sesame oil on each plate before serving, if desired. Garnish with slivered cucumbers, cilantro, scallions.