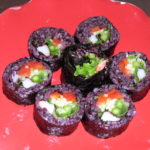 My grandmother told me eating black sesame made my hair shiny, black and healthy. She fed me black sesame soup (zhima tang), sticky rice balls oozing with sweet black sesame paste (tangyuan) and black sesame candy. Black sesame have protein and fiber, plus B vitamins and minerals, manganese, magnesium, calcium, iron, and zinc.
It didn't take much lobbying. As a kid, I cared less about the nutr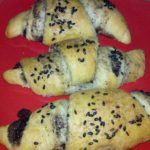 itional or beauty value. It was all about the taste and I loved the flavor of black sesame in any shape or form! It was a nuttier, roasty version of peanut butter.
Like many other foods with deep or bright colors, it's either really good for you…or be poisonous and might kill you! Black rice has several varieties, including sticky, glutinous and jasmine (plus all the noodl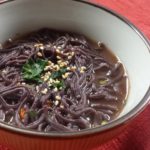 es, breads, and desserts made with black rice flour) and are a good source of iron, antioxidants and vitamin E. After cooking, the sticky black rice takes on a deep purple hue. In Mandarin, black rice is called "purple rice."
Lotus Foods, an American company specializing in organic, heirloom and fair trade products, sells a wonderfully fragrant and chewy "Forbidden Black Rice" which I use in rice salads and a Black Rice Ramen that I enjoy with a capful of our You Saucy Thing soy ginger Vidalia sauce, as a natural, flavorful soup base.
Learn about eco-friendly Sustainable Rice Cultivation (SRI)
For many years in our cooking classes, we've shared our passion for (and introduced to many first-timers) Black Fried Rice and Purple Rice Sushi Rolls!
Video: Natalie's Purple Rice Sushi Rolls